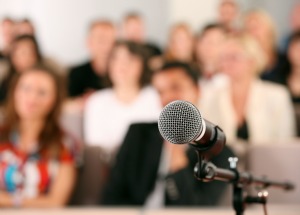 Whether it's a motivational speaker, keynote speaker or a sports speaker, CelebExperts can assist you or your event planner in outsourcing the perfect speaker!
Question: My CMO asked me to find a speaker for our upcoming marketing meeting with 250 of our top salespeople from around the United States. I am so nervous, so unsure of what the CMO wants, how can I possibly find the right speaker?
Answer: One word.. Honesty. Be honest. Share with the CMO that you have never hired a speaker for an event before. You are surely capable. But you would like to get more information so you can find the right person! Information is king (and queen), in this business of hiring a speaker.
Question: What type of questions should I be asking?
Answer: The baseline information you need to know is as follows:
What is the theme of this year's event?
Where is it being located?
How long do you want someone to speak?
What are the CMO's objectives for hiring or booking a motivational, keynote or sports speaker?
Who has the CMO booked for this event in the past?
What is the SOW (Scope of Work) you are requiring for the speaker?

Dinner the night before?
Pre-event call with the speaker?
Sign autographs? Request the speaker to announce their speaking at your event via their own social media?
Will the speaker take pictures?
Is the speaker selling any books or DVD's on-site?

Does the event require a keynote speech or can it be a moderated Q&A?
WHAT IS THE BUDGET excluding travel, hotel, expenses?
Would the CMO like to see a speaker's tape before they hire or book the speaker?
Would the CMO like to hire or book a business keynote speaker from the world of:

Sports speakers?
Politics?
Lifestyle TV star
Celebrity Chef
Reality TV
News and hosting
Home and Garden
Adventurer
NASA Astronaut
Inventor
NY Times best-selling Author
Health and Fitness Expert
Beauty and Fashion mogul
Comedian
80s/90s TV stars
Business Titans
Social Media guru
Technology CEO's
Christian speaker
Corporate Speaker
So as you can see, there are so many elements to hiring or booking an inspirational speaker. When your company is searching for the best speaker to inspire your staff and business partners to achieve in a manner they had not before, let CelebExperts help you build and execute your plan for your next event.